Arica Addams was born September 5, 1995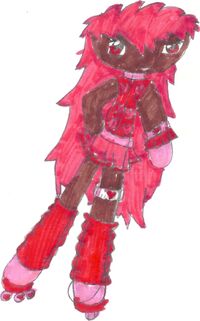 Biological name and current name
Edit
The name "Zap" is not her real name, her real name Arica. Arica Macy Addams.
Personality
Edit
Her real personality is sweet, practical joker and loves playing with dolls (mosty Hello Kitty and My Melody). Arica is not only girly girl/lil' miss goth but also a great fashion designer. When she turned 16 she refused to take her parents name and later only wanted to be called Arica or Zap.
Arica Addams
150px
Aric (Arica)

Birthday

September 5, 1995

Age

15

Siblings

Zayna and Killara

Parents

Makoto Addams (mother)

Hakito Addams (father)

Power

Fire wolves
Ad blocker interference detected!
Wikia is a free-to-use site that makes money from advertising. We have a modified experience for viewers using ad blockers

Wikia is not accessible if you've made further modifications. Remove the custom ad blocker rule(s) and the page will load as expected.