Dark Zoey is an exact clone of
Zoey Heart
, only evil. She works for
Razor
. She has the power of Black Raging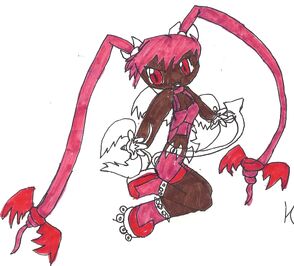 Fire, a double from Zoey's Raging Fire. After she was created she made "Dark" versions of the other Powder Puff Girlz and that was the beginning of the
Dark Powder Puff Girlz
. Kyori or (Dark Zoey) loves destroying things including things around DPPGz's hideout which ticks everyone else off.
Nicknames
Edit
Kyori is called many things such as: "Fire Demon", "Black Witch of Fire", "Dark Princess of Fire" (Princess of Fire is Zoey's nickname)
Appearance
Edit
Kyori wears a vest type outfit that has a neck band that connects with the shoulder bands. She wears a black skirt that has a crimson bow and black boots and black leg bands that have ruby spikes on them, that can slice through anything.
Weaknesses
Edit
Love Interest
Edit
Kyori has 5 weaknesses. For example, she can't stand scary stories (even if she's evil), she has a crush on the same boy Zoey likes, Skyler Kitori.
Kyori is afraid of snakes and bugs
Kyori doesn't have very many friends. The only friends she has are the DPPGz and a few at school.
Ad blocker interference detected!
Wikia is a free-to-use site that makes money from advertising. We have a modified experience for viewers using ad blockers

Wikia is not accessible if you've made further modifications. Remove the custom ad blocker rule(s) and the page will load as expected.